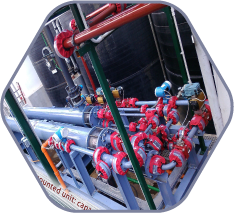 Sulfuric Acid Dilution Systems
Graphec® "OneButton" Sulfuric acid dilution units are skid mounted turn-key systems completely automatic. Acid dilution produces a sudden and relevant heat release, which causes quick temperature increase, sometimes over the evaporation temperature of diluted acid.
Graphec® OneButton normally include heat exchanger (usually graphite Shell and Tubes), static mixer (made of graphite / PTFE), acid resistant piping and valves (PTFE lined), conductivity measurement device, metallic frame, instruments, control valves and control panel (with PLC). If needed, following accessories can be integrated: feed pumps or product booster, automate unit to control delivery to storage tanks, cooling tower, DCS interface control and recording station.
Graphec® OneButton ensures:
extremely precise dilution within a large range of concentration (up to 85% w/w);
strict control of all critical process parameters;
safe and fast start-up and shut-down procedures;
optimum material choice for each component, in order to maximize lifetime.
Integrated control system is eventually equipped with recorder and it is able to regulates interlocks and sequences. No manual operation is needed with "OneButton" logic, workers must only select required concentration value, press START button and wait few second to reach steady state.