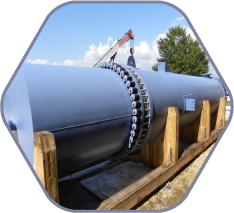 Graphite Shell Tubes Heat Exchangers
Graphec® ST shell&tubes heat exchangers are extremely safe and strong. The tubes – exclusively made in Europe – are homologated according to AD-2000 N2 with grade G 30-00-220, the best in the market. The tube-sheetsts may be made of fine-grained graphite (Graphec® iSP) or ultra-fine grained graphite (Graphec® ILP), based on the requirements of each item. The joints between tubes and tube sheets are performed according to a gasket-less certified procedure. Tubes and tube-sheets can be reinforced with carbon fiber wrapping, Graphec® CFx, to increase resistance to mechanical and thermal stresses (in particular, the fatigue resistance).
The coupling between floating header, floating tube-sheetst and shell is designed with a double tightening system, in order to manage separately two indipendent functions: gaskets tightening and differential expansion compensation (with helical springs). Therefore, even in case of failure of springs, this system avoids leakages of corrosive fluid to the outside. Every single detail is designed to make Graphec ST robust and reliable, even in extreme conditions.
Each unit can develop up to 1600 m2 exchange surface and it is possible to integrate more bundles into a single unit (ST Multibundle), which works under optimal conditions of heat exchange and fluid velocity. Headers and shell can be made of a endless combination of materials and coatings. A long list of accessories (inpingement plate, anti-erosion, overflow crowns, …) makes Graphec ST suitable for the most challenging and complicated services.