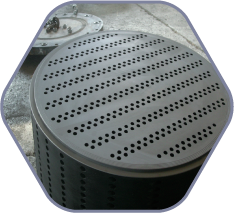 Spares Rupture Disks and Accessories
Spare parts
Cylindrical and cubic blocks, nozzles, hoses, fittings, gaskets, headers: every component of your graphite unit is perfectly replicated using high-quality materials, thanks to reverse engineering techniques. Ecarb does not charge the price of spare parts, as manufacturer of original equipment do. This price policy allows a considerable savings on maintenance costs.
Accessories and bursting disks
Graphec® product line includes the following graphite components and accessories:
Rupture disks, PED certified, calibrated with high precision (+/- 5%), mono-block model (MB), three pieces model, with menbrane and reusable holder (3B), for high temperature application (eMB, whose calibration pressure does not vary from -60 to 280 ° C).
Thermometric pockets, piping, fittings, and valves made of graphite.
Special components and process items: bayonet heat exchangers, seals, ejectors, etc.