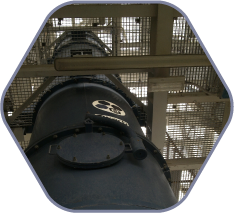 PTFE Lined Equipment
PTFE protects against most aggressive fluids in a wide range of operating conditions. The design of our equipment is made according to specific construction standards of the selected lining technique. The metallic parts are designed and manufactured to get a precise and uniform application of the liner.
High-density sheet lining
Columns and vessels, even of large diameter, are lined with sheets made of virgin PTFE. The sheets are skived from sintered high-density massive rods, having lower permeability in comparison to extruded or pressed PTFE. Sheets are applied in adherence to the inner surface. Continuity of the coating is guaranteed by weldings, finally checked with spark test.
Roto-lining
The application in rotary kiln of 3-5 mm of ETFE or Teflon lining allows the creation of seamless layer, perfectly resistant to full vacuum up to high temperature. It is an advanced technology that eliminates many of the critical problems originated by other coating techniques. It is available for diameters up to 2200 mm.
Dual protection system
Dual protection system is technique developed and experimented by Ecarb for critical services. To eliminate the risk of corrosion due to slow permeation after years of operation, metallic surface is protected by a second layer: a coating (approx 1 mm) typically made of ECTFE or PFA. The interspace between two liners is kept under aspiration to purge fluids eventually permeated or to ensure safe operation under vacuum conditions.