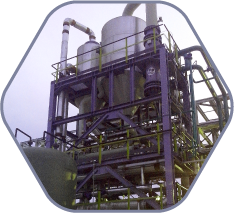 HCl Purification and Stripping
"OneButton" process packages offer tailor-made solutions for stripping and purification of Hydrochloric Acid. Premium systems are possible with very low investment cost, thanks to internal production of most of the critical items.
Azeotropic Distillation (purification): azeotropic solutions of HCl are evaporated and condensate in single or double stage evaporator, to remove traces of metallic ions (Fe,Zn,Pb,….) or other heavy compounds.
HCl stripping: the elimination of low-boiling organic fractions in performed into desorption / absorption sections, that enable to purify, recover HCl and concentrate to get the requested commercial grades.