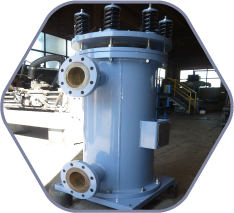 Graphec® RB and SB, Graphite Block Heat Eexchangers
Great ease of maintenance and operation, compactness and versatility: these are the characteristics of graphite blocks heat exchangers, mainly used as condenser or as heaters in pickling lines.
Ecarb has two models of such a kind of unit: Graphec® RB (cylindrical blocks) and Graphec® SB (prismatic blocks). Blocks are available in materials Graphec® iSP (fine-grained, max 200 ° C), Graphec® ILP (ultra-fine grit, max 220 ° C) or Graphec xLP (with special impregnation, up to 430 ° C).
Diameter and type of holes, drilling path, number of blocks and passes are parameters optimised on the basis of specific process conditions. Accurate design and faultless construction ensures a longer lifetime. Each unit can develop up to 900 m2 of exchange surface. Headers and shell can be made in a endless combination of materials and coatings. A long list of accessories (inpingement plate, blocks sacrifice anti-erosion, overflow crowns, …) make Graphec® RB and Graphec® SB suitable for every specific service.