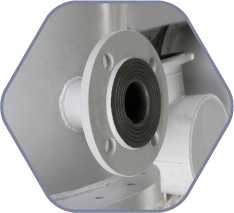 Rubber and Ebonite
Ecarb manufactures rubber or ebonite lined equipments, using European high quality rubber and ebonite, resistant to a wide range of chemicals. Our items are designed according to standards, specific for each material. Metallic parts are designed and produced to ensure a homogeneous adherence and perfect sealing.
Available Materials:
Rubber, max working temperature 85°C, abrasion resistant.
Ebonite, max working temperature 95°C.
Graphite charged Ebonite, max working temperature 105°C.
Phenolic-based lining, max working temperature 120°C.
These polymers are applied to inner surface of metallic equipment, in temperature controlled autoclaves, after an appropriate sand-blasting process, according DIN and EN norms. It is possible also to overlap several layers, made of different materials. Due to the perfect adhesion of lining to the metal, rubber lining is ideal for full vacuum operation.
Main features of our linings are:
Good corrosion resistance (Ecarb will advise the best solution, depending on the process);
Not expensive and well established technology;
Easy repair on field is possible.