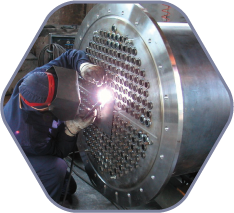 Metallic Shell and Tubes Heat Exchangers
Ecarb designs and manufactures shell & tubes heat exchangers, according to each project specification. Our units are ideal for chemical, pharmaceutical, petrochemical and oil & gas industries. Every detail is adapted to specific process service (reboiler, condenser, heater / cooler) or to requested geometry (Kettle evaporator, bayonet, etc.)
Available materials:
Carbon steel and cast iron – stainless steel
Chromium-molybdenum steel – austenitic steel
Nickel and Nickel Alloy
Duplex and Super Duplex steel
Titanium, tantalum and niobium
Copper and copper alloys, marine alloys
Ecarb's manufacturing system is certified according to European Pressure Equipment Directive PED (97/23/EG). We autonomously manage the design and the certification in compliance with main international standards (ASME, AD-2000, VSR and EN) and according to TEMA construction standards.
In order to get corrosion protection for specific applications (i.e. cooling of sulphuric acid), an anodic protection system can be installed in our shell & tube exchangers. Protective film is formed on the surface of metallic shell, by mean of an electronic controlled tension. Ecarb is able to design heat exchangers with embedded anodic protection device and to set up and start up the electronic protection control system.