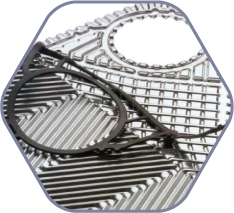 Plates Heat Exchangers
A complete range of equipment, suitable to meet customer specific needs. Ecarb assemblies plates heat exchangers, welded or with gaskets. Thanks to the wide availability of dimensions, gasket materials and frames, we will select the cheapest and smartest solution for each application.
Plates and gaskets heat exchangers are equipped with self-gripping gaskets (Nitrile, EPDM, Viton and NBRHT), providing a maximum operating temperature of 160 °C. Each plate has an heat transfer area from 0,1 to 3,5 m2, thickness from 0,35 to 0,8 mm, connection up to DN500 (20″). Free flow plate system (with higher gap between plates) is available in case of dirty fluids.
Welded plates heat exchangers are capable to work under severe and challenging process conditions, they can work under high pressure and temperature, they can handle dirty fluids or they can work as condenser, under vacuum. It is possible to choice between two different geometries, with rectangular section or with circular section, with several plate types: dimped, corrugated or embossed. The plates are easily accessible to simplify cleaning operation or to enable processing of fluids rich of solids
Available materials:
Stainless Steel (AISI 304 or 316)
Titanium, Nickel and Nickel Alloy