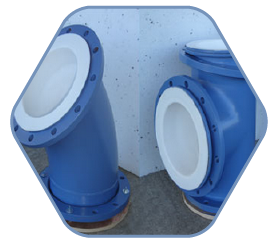 PTFE Piping & Fitting
A complete range of PTFE lined pipes and fittings, made of lined carbon steel or stainless steel, according to international standards UNI, DIN (DIN2848) and ANSI. Lining is produced from virgin PTFE, using the most suitable manufacturing technique: PTFE can be extruded, molded or rotolined. Fittings and Tees are available with PTFE or PFA lining, depending on the application. Heavy duty piping, with diameter up to DN600, can handle high vacuum grades. The lining can be charged with graphite (conductive), when it is required by ATEX. On request, several accessories can be choosen: earthing lugs, customized painting, steel reinforcement, etc.
Expansion Joints
Our product range includes expansion joints with 2, 3 and 5 convolutes, made of white or black (antistatic) PTFE, with outer stainless steel rings to ensure safety and long lifetime. In case vacuum resistance is needed, our bellows may be equipped with PTFE lined inner ring. Flanges can be painted, according our special painting system, or galvanized. Graphec® expansion joints are studied to be specifically used on graphite nozzles.
Manifold
Due to safety reasons or lack of room, standard fitting cannot allow installation of flanged pipeline. In such a case, flangeless customized manifold will be designed and created.