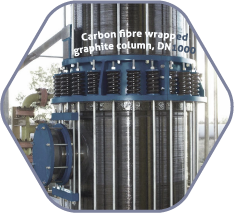 Graphite Columns
The graphite, because of its excellent corrosion resistance and the great thermal stability, allows severe operating conditions, often unsustainable for other materials or coatings.
Graphec® columns, packed or plates, are manufactured according to specifications of every single project. Available construction materials are graphite grades Graphec® iSP (max 200 ° C), Graphec® ILP (max 220 ° C) and Graphec® XLP (up to 430 ° C). Every detail is designed according to the most advanced engineering standards in order to maximize lifetime and to get easy and quick maintenance. Graphite columns can have large diameters (up to 2400 mm). Graphite can be reinforced with external carbon fiber wrapping, Graphec® CFx, in order to increase the resistance and intrinsic safety in the case of unforeseen and hazardous operating conditions. The graphite can also be armored with an external shell made of carbon steel.
Graphec® product line includes a full range of graphite internals:
Liquid distributors, downcomers, conveyors and support grids.
Sieved plates, bubble cap, tunnel tray and chimneys plates.
Random packing: Raschig rings (from 1/2 "to 2").