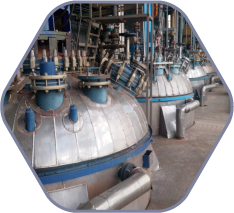 PAC, Poly – Aluminium Chloride
PAC is a precius additive used into sewage treatment, drinking water production and body care products. Due to high aluminium content, high capacity to coagulate and its low specific consumption, PAC is the most efficient organic additive available on the market.
Graphec® OneButton systems allow production of high purity and high basicity PAC by mixing and reacting aluminium hydroxide and hydrochloric acid.
Our packages are turn key units, complete of intermediate storage vessels, powder handling system, reaction and filtration unit. If not available on site, utilities are integrated into our package. Commissioning and start-up assistance can be provided in order to train operators to manage the unit and minimize downtime.Each item is designed and studied to overcome any erosion or corrosion problem and according to specific safety standards for PAC. Enameled reactors are designed with special thickness, graphite heat exchangers are equipped with anti – erosion device: every component is designed to increase efficiency and to decrease batch time, to get the optimum balance between investment cost and economical performance.