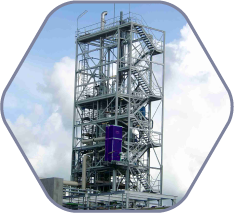 OneButton HCl Synthesis Unit
Commercial HCl solution are produced by absorption of hot HCl gas, which is sinthetized by combustion of H2 and Cl2. "One button" units are available as skid mounted package, "turn key", fully equipped and ready for operating. Our synthesis unit has the burner placed at bottom of the furnace and this design offers great advantages:
No rotating components(e.g. Pumps), in order to reduce energy consumption;
Easy and safe maintenance: key-components are around the burner, that located in confortable and accessible area, at the bottom of the unit.
It is possible to produce up to 40% acid concentration, with high yield and efficiency (it works with minimum Clorine excess).
It can be equiped with heat recovery system, in order to produce LP steam.
Many arrangements and sizes are available, with max capacity 150 TPD (as 100% HCl)
Safety accessories are all certified and redundant (flame guard, hydraulic guards, bursting disks).
Our packages are adjustable for any operating demand, with independent, hybrid or centralized control system.