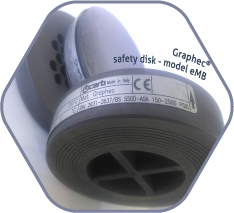 Graphec® Safety Bursting Disks
Graphec® safety disks ensure safe, reliable and precise rupture behavior, protecting your equipment from unpredictable pressure fluctuations. Compared with metallic ones, graphite safety disks guarantee following advantages:
Superior corrosion resistance;
Homogeneous bursting behavior: graphite membrane breaks and the entire section becomes available for gas discharge;
Thermal stability: graphite rupture disks behavior is not strongly affected by temperature.
Graphec® product line includes three disk models, to face several working conditions (temperature and pressure).
Graphec® MB: standard graphite monolithic disk for standard applications, simple and reliable design.
Graphec® eMB: monolithic graphite disk for high temperature, with PTFE or expanded graphite membrane (with stable bursting pressure up to 260°C).
Graphec® 3B: disks made of three graphite components, a graphite membrane and reusable holder, in two parts.
All three models are available from DN25 up to DN 600 (1" to 24"), are suitable for UNI or ANSI flanges and certificated according to PED. On request is possible to have finest calibration, up to +/- 5%.
We can provide disks interchangeable with those of main manufacturers, with bursting pressure from 0,1 bar and vacuum resistant.