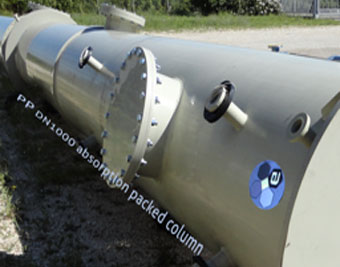 Columns, Vessels and Reactors
Ecarb designs and manufactures reactors, columns and vessels for chemical, pharmaceutical, petrochemical and oil & gas industries, according to each project specification. Every detail is adapted to the requested process service, on the basis of the geometry of the equipment: stirred reactors, tubular reactors, reflux vessel, flash drum, storage tanks, distillation columns (with packing or plates), falling film absorber, etc.
Available materials:
Carbon steel and cast iron – stainless steel
Chromium-molybdenum steel – austenitic steel
Nickel and Nickel Alloy
Duplex and Super Duplex
Titanium, tantalum and niobium
Copper and copper alloys, marine alloys.
Ecarb's manufacturing system is certified according to European Pressure Equipment Directive PED (97/23/EG) so to autonomously manage the design and the certification in compliance with main international standards (ASME, AD-2000, VSR and EN). The knowledge of the chemical process operating principles allow to ours engineers to take maximum care of every detail, in order to adapt each item to its working conditions. We will propose and include all suitable accessories and components that increase safety, lifetime and reliability.