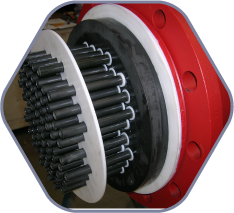 Silicon Carbide Super-SIC® Heat Exchangers
SUPER-SIC® heat exchangers have a unique design with silicon carbide (SiC) tubes and massive SiC tube-sheets. They are designed to operate under severe and corrosive conditions, being SiC universally inert. Other suppliers propose tube-sheets made of PTFE or glass lined steel, which will lead to leakages even after short operation periods.Leakages can be due to deformation of the lining, to permeation of corrosion media up to the metallic substrate or to loss of elasticity of the sealing system, during thermal cycles. Our massive SiC tube-sheets is the unique and final solution of these problems, due to usage of hard, resistant and eternal material.
Main features of SUPER-SIC® units:
Shell: diameter up to 350 mm, made of c. s., stainless steel, glass-lined steel, PTFE-lined steel, etc.
SIC Tubes: from Ø 14 mm to Ø 35 mm, with max length 4500 mm (max heat transfer area: 40 m2)
Working temperature range: -30/+240 °C, working pressure range: -1 bar / + 8 bar
Certifications: CE, ATEX and FDA
Double tube-sheet
It is possible to segregate the process fluid and the service fluid with a separation chamber. In case of failure of O-rings sealing, no mix will occur between the two fluids (according to GNP criterium). Separation chamber can be eventually pressurized to avoid any leakage towards the external. Primary tube-sheet, in contact with process fluid, is always made of massive SiC.
Sealing system
Each tube end is connected to the primary and secondary tube-sheet, with two pairs of FKM o-rings. Double o-ring avoids loss of elastic properties of the whole system. Moreover double O-rings set will softly support SiC tubes, to prevent from shocks or vibrations.