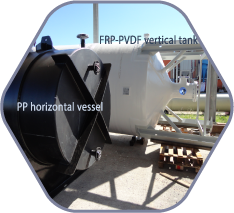 PP, PVC e PVFD Process Equipment
Ecarb designs and manufactures vessels and equipment made of plastic or FRP. Mechanical calculation and manufacturing is carried out in compliance with most reliable international standards; in particular FRP equipment are designed in accordance to BS 4994, the most safe and complete reference norm.
Our product portfolio includes:
Vessels, columns and reactors made of plastic materials ( PP, PVC or FRP ).
Carbon steel vessels, columns and reactors lined with PP or PE.
Vessels, Columns and reactors made of FRP (in particular: PP, PVDF, MFA, ECTFE, FEP, PFA or PTFE).
On the basis of process fluid and working conditions, Ecarb will advise the choice of the best material and we will help to identify the suitable manufacturing standards.