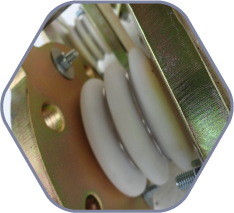 Graphec® PTFE Expansion Joints
Expansion joints have an important function in preventing excessive stresses, caused by thermal expansion, improper loads or vibrations. These solicitations may damage nozzles or entire pipelines. Being chemically inert, PTFE is the ideal construction material for bellows, to be installed on graphite nozzles of Graphec® units, used for corrosive fluids. Graphec® PTFE compensators are designed to be installed – without modification – on graphite nozzles of our equipment.
PTFE Graphec® expansion joints are available in 2, 3 and 5 convolutes, with UNI or ANSI flanges. PTFE can be white or black (antistatic). Outer rings in stainless steel prevent from damages due to overpressure, whilst inner rings made of coated steel ensure vacuum resistance, if requested. The flanges are made of galvanized or painted steel. Compensators are certified according to PED and – on request – ATEX.
The quality of raw materials and the construction techniques allow to obtain high pressure rating, even for large diameters and high temperature. Upon request, our sales service will provide technical and commercial data sheets, with typical gauges of each diameter.